Select your delivery date
Why pre-order? Ordering ahead helps restaurants minimize waste and pass savings to you. All meals made fresh, within 24 hours of delivery. Thank you for supporting your community :)
It looks like you had a previous delivery date selected, we have updated your delivery date to
Why pre-order? Ordering ahead helps restaurants minimize waste and pass savings to you. All meals made fresh, within 24 hours of delivery. Thank you for supporting your community :)
Chicken Salad
with Grape Tomatoes and Lemon-Mustard Vinaigrette
$19.0
$11.00
42% OFF
$19.0 in store
Healthyish Republic's Chicken Salad: A mixed green salad with served with seasoned chicken, grape tomato, cucumber, parsley, pickled red onion, and a zesty lemon-mustard vinaigrette.
View full details
Ingredients
Mixed green salad (arugula, spinach, lettuce), marinated chicken (chicken, olive oil, garlic, paprika, salt, pepper), grape tomato, cucumber, parsley, pickled red onion, lemon-mustard vinaigrette (olive oil, yellow mustard, lemon juice, garlic, salt, pepper).
Heating Instructions
1. Peel off film.
2. Pour dressing over salad, toss, and serve.
Recommended: Transfer the meal to a dish.
Our 'Fresh Seal' packaging keeps this meal fresh for 3 days after delivery.
This meal arrives chilled and packaging is microwave safe
Nutrition Info
The % Daily Value (DV) tells you how nutrients from this meal contribute to a daily diet of 2,000 calories a day. Your daily values might be higher or lower depending on your calorie needs

Healthyish Republic
Healthyish Republic was established to cater to individuals with specific dietary preferences. They provide a diverse and inclusive dining experience, crafting homemade, wholesome meals influenced by various cultures. Their goal is to offer both culinary delight and a sense of belonging to all who dine with them.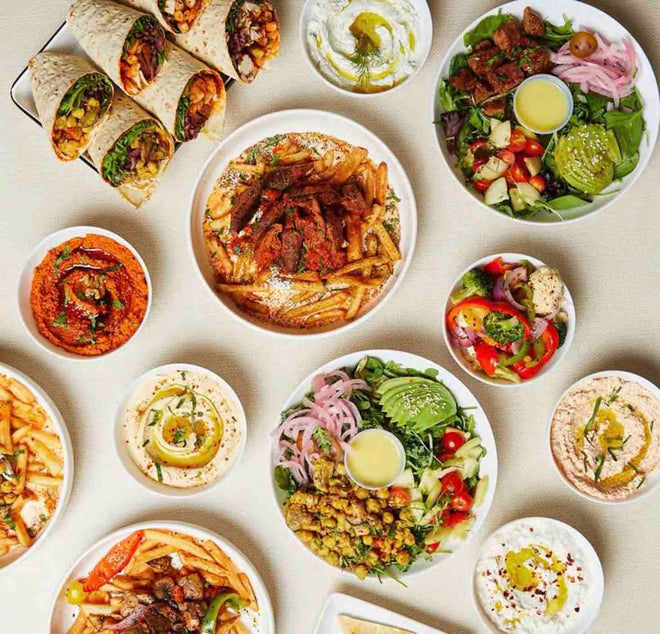 More from Healthyish Republic