Select your delivery date
Why pre-order? Ordering ahead helps restaurants minimize waste and pass savings to you. All meals made fresh, within 24 hours of delivery. Thank you for supporting your community :)
It looks like you had a previous delivery date selected, we have updated your delivery date to
Why pre-order? Ordering ahead helps restaurants minimize waste and pass savings to you. All meals made fresh, within 24 hours of delivery. Thank you for supporting your community :)
Superstar Shrimp
with Broccoli and Sweet Soy Chili Garlic Glaze
$26.25
$11.00
58% OFF
$26.25 in store
Burma Superstar's Superstar Shrimp: Wok-tossed shrimp, onions, and broccoli in a sweet soy and chili garlic glaze with steamed rice; tantalizing flavors.
View full details
Ingredients
Shrimp, rice, broccoli, onions, sweet soy chili garlic glaze (sweet soy sauce, garlic, red chili flakes, vinegar, sugar, water).
Heating Instructions
1. Peel corner of film to vent.
2. In original packaging, microwave 2-3 minutes.
Recommended: Transfer the meal to a dish after heating.
Our 'Fresh Seal' packaging keeps this meal fresh for 4 days after delivery.
This meal arrives chilled and packaging is microwave safe
Nutrition Info
The % Daily Value (DV) tells you how nutrients from this meal contribute to a daily diet of 2,000 calories a day. Your daily values might be higher or lower depending on your calorie needs

Burma Superstar
Burma Superstar takes pride in bringing authentic taste and cooking from Burma. Burmese cuisine reflects a history inspired by surrounding countries and ancient traditions. Coastal, forest, tropical, and mountainous cultures within Burma have all contributed to the rich tastes and smells you experience in each bite of their dishes!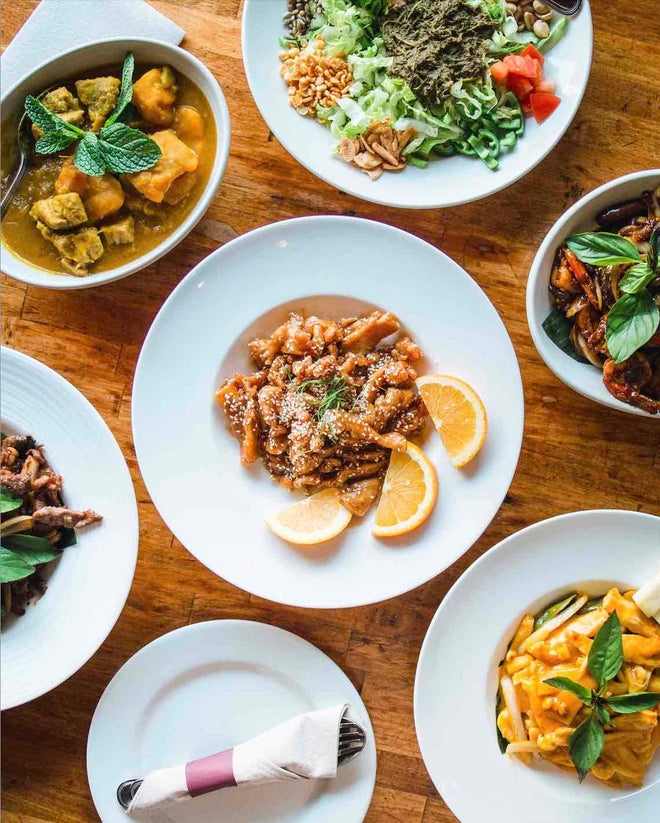 More from Burma Superstar